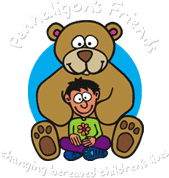 Penhaligon's Friends
Registered Charity Number: 1189323
---
About the charity
Penhaligon's Friends is a Cornish charity, supporting bereaved children, young people and their families in Cornwall, through a variety of services and groups.

How the £40,000 grant will help
With additional funding, Penhaligon's Friends will be able to strengthen our staff team to expand our community support for bereaved young people. We will be able to develop up to four monthly peer groups, in different localities, to enable young people better access to support throughout the county and also offer a choice. The groups will be facilitated by both staff and trained volunteers and offer relevant therapeutic activities. Activities will also aim to promote a sense of fun and give permission to find enjoyment in things again.
Through the groups, we aim to reduce the sense of isolation that often comes with grief and allow the opportunity to process and explore the wide range of emotions and feelings with others with a shared experience. Providing a regular opportunity for young people to attend, without pressure to be at every group, will allow them to engage when it feels right for them. We can build trust with the young people we support to increase confidence to access other appropriate services. Over a 3-year period, we anticipate we can support over 150 bereaved young people, improving their emotional wellbeing and improve their skills to cope with further life challenges.
Quotation
"Receiving this additional £40,000 will allow us to really invest in providing longer term, appropriate, and meaningful support for bereaved young people throughout Cornwall. As a small charity, this will allow us to make a big difference!"

Julie Parker, CEO, Penhaligon's Friends
For regular updates on Group and industry news, funding, fundraising resources and webinar alerts.